Text Message Marketing, The New Kid On The Block [Infographic]
Text Message Marketing, The New Kid On The Block [Infographic]
Updated January 20th, 2023
In today's fast-paced world, businesses — regardless of size or location — are fighting for the attention of their customers. We as consumers witness this every single day. Whether it be through print, TV, radio, social media, or email, it's clear that getting the attention of your customers is harder than it's ever been.
Now, companies are turning to text message marketing software as a new tactic for reaching their target audience. After all, it takes 5 seconds to send a text, and 98% of text messages are read within 3 minutes of sending.
Below is an outstanding infographic that highlights 12 eye-opening stats on why text marketing is gaining so much traction and tips on how to get started with your text marketing strategy.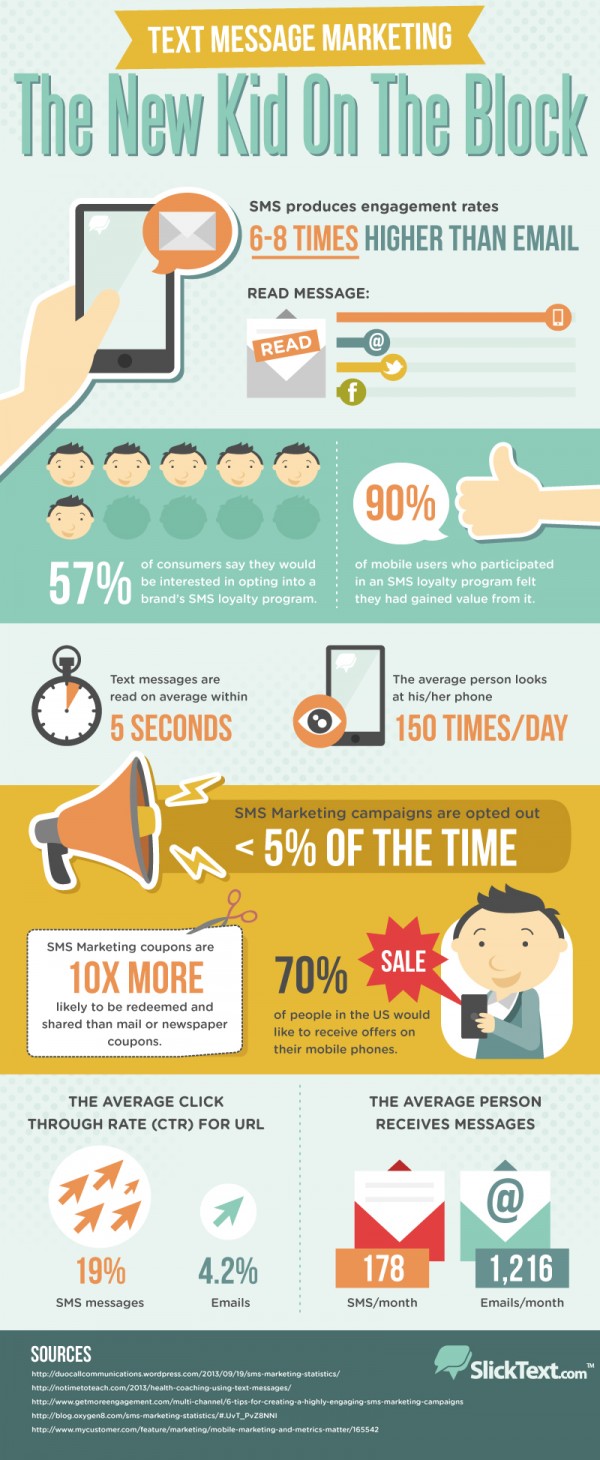 What is Text Message Marketing?
Text message marketing (also referred to as SMS marketing) is a form of advertising that allows businesses and organizations to communicate directly to their subscribers by sending group text messages.
Now your first thought might be, "I don't want any company that has my mobile number to start sending me marketing via SMS." The good news is that they can't — well, not legally. One of the biggest differences between text marketing and other forms of marketing like email is that your customers have to explicitly opt-in to receive text messages from you.
The requirement of an opt-in does a few things:
It helps prevent unwanted SMS spam. While it's unfortunate that some text message spam still exists, it's nowhere near the amounts that we see with direct mail or email and will not get anywhere close to that bad because of the fierce laws surrounding unwanted phone calls and text messages that we have in place.
It allows you to market to only your best customers. Think about it: anyone will like your Facebook page. Most will give up their email address… even if they don't plan to do business with you again. Only people who truly care about hearing from your business will provide their mobile phone numbers. Why? Because text messaging is normally reserved for communication between family and friends and is still considered private and personal.
Why Text Message Marketing?
At the very core of it all, people read their text messages. Most read every single one — and do so within seconds.
On average, standard length text messages are read with 5 seconds of landing on a person's phone.
Click To Tweet
Given the fact that most people look at their phones at least 150 times per day, it's clear that SMS is a powerful way to communicate with your customers.
So now you might think, 'Well, those statistics are for any old text message coming from a friend. What about text messages coming from a business?'
Actually, you might be surprised to learn that those same statistics hold true for marketing messages from text programs that people have opted into — especially when they're sending text promotions.
Stats on text messaging show that 57% of people would be interested in opting into SMS loyalty programs from their favorite brands. Furthermore, 90% of people who are or have been part of a text message marketing program say they have found value in it. That's huge! Can you imagine being able to text over 50% of all of your customers AND have most of them find value in what you're sending?
Let's make things even clearer. Most businesses these days have an email list, and it's likely that you're no different.
Studies have demonstrated that a single text blast produces 6 - 8 times the amount of engagement that an email campaign does. There's gold in text messaging. All day long.
Click To Tweet
How Text Message Marketing Works
The best part about text marketing is that it's very simple, for the most part. The level of simplicity will depend a lot on the mass texting service that you choose when launching your SMS program. Keep in mind: not all SMS marketing platforms are created equal, and some won't' provide the functionality and support you need to be successful.
If you wipe away the clutter and focus on the basics, there are three core components to examine in order to understand how text message marketing works.
Create a keyword: This is a word or phrase that people will text to an SMS short code (short phone number) to opt into your text messaging program. This is the opt-in process that we talked about earlier. Once they send that opt-in text, they are added to your list. When you sign up with SlickText, we'll create your first keyword for you, so it's easy to start growing your list.
Grow your list: This is where the work happens. Growing your list isn't easy, however, it's not terribly hard either. As your list grows, your text program becomes more powerful as you can reach more and more people. The best part is that everyone on that list has said YES to receiving messages from you. At SlickText, we offer a number of tools and features that help you exponentially grow your list, including custom QR codes, mobile coupons, text-to-win sweepstakes, web popups, and more.
Send your messages: This is where you finally get to reap the benefits of your hard work. It's important that you create value for your subscribers in every single message that you send. You can offer discounts, freebies, or anything else that would motivate your customers to take action. You can also use messages to drive traffic to specific products, pages, or locations, helping you to move out inventory or increase foot traffic on slow days.
Who Uses Text Message Marketing?
You might be surprised what types of businesses and organizations use mass text apps. The reason is that SMS is used just as much for communications as it is for marketing. Yes, you can expect to see businesses like restaurants and retail stores using text marketing — but what you may not expect is that organizations like churches, unions, and non-profits use it as well.
While they may not be sending marketing, the key benefits remain. They can get their message out instantly and with the highest level of engagement. Check out some of the most common text marketing use cases.
How To Get Started
Interested in getting started with SMS? The first step is choosing a text messaging service. There are many to choose from, and there are pros and cons to all of them. Make sure that you find one that offers plenty of support. You want a company that has your back and can not only bring you up to speed but also helps you build a solid strategy.
It may make sense, if you are looking to get your feet wet, to find a service that offers free text message marketing to start. Here at SlickText, we offer a free plan that allows you to start your program at no cost and start growing your list before investing any money. Additionally, you'd be doing yourself a favor to find a service that has a large feature library and can potentially even send automated text messages for you.
Send Mass Texts with SlickText
If you have any questions or are interested in learning more about how text message marketing could help your business or organization, don't hesitate to reach out. We'd love to hear from you!