SMS Marketing Case Study: Greats.com
SMS Marketing Case Study: Greats.com
Updated December 5, 2021
Getting started with SMS marketing can feel daunting for ecommerce retailers who are used to email marketing. Even though most marketers recognize the growing need for SMS marketing for everything from shipping updates to customer loyalty, using text message marketing software to get started does come with its own opportunities and challenges.
The first challenge for marketers is to grow their list. That's what Greats.com set out to do when they implemented SlickText's text message marketing software. Between the period of July 2014 and April 2015, Greats.com gathered 6,397 qualified opt-ins.
Here's how they did it.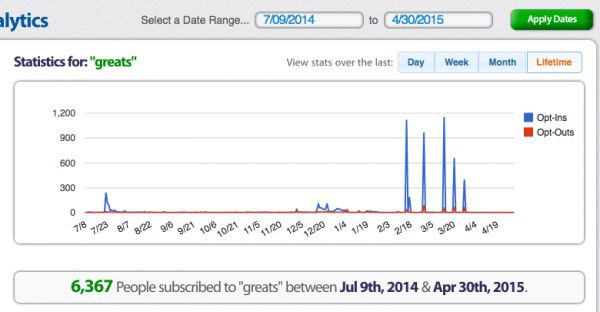 Promoting their text list
Greats.com gathered interest with a website widget and on-site banners. Once these subscribers double-opted in, they were each rewarded with a coupon code that gave them $10 off their first pair. Why was this incentive valuable to the Greats.com subscriber? With limited quantities, it encouraged an instant purchase. Pictured below is the official auto reply that was sent back after a new subscriber joined the list.
Note that Greats.com immediately rewards their new subscribers with a valuable offer. Never make your offers difficult to redeem, or your opt in incentives too generic. Always provide an exclusive offer for your VIPs.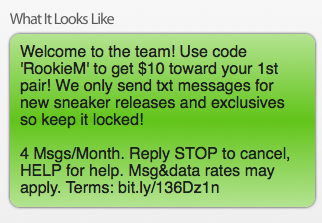 At the height of this promotion, Greats.com collected 638 new subscribers in 30 days.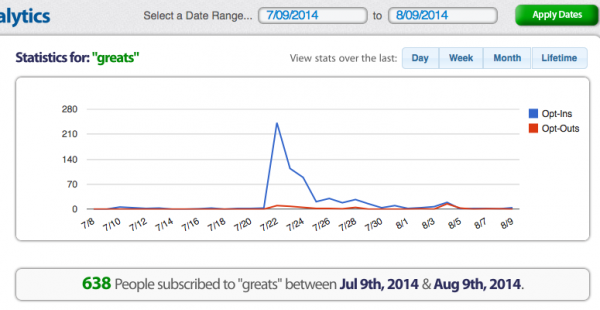 Why Greats.com chose SMS marketing
While most ecommerce retailers were chasing down email subscribers, the Greats.com team saw text messaging as less saturated, with recipients who are more engaged. The average email open rate is just 18%, which hardly compares to text messaging's 98% open rate. The Greats.com marketing team recalled, "I can't remember a single time when I haven't read a text. Keeping that in mind, SMS marketing seemed like an obvious solution."
Greats.com felt that text messaging helped their visually-oriented campaigns and text promotions. These campaigns helped sell the merchandise, and build a stronger connection between product and consumer.
Greats.com also followed an SMS marketing strategy similar to Uber. They promoted a huge offer to encourage the initial opt in, but after that, just followed up with valuable announcements and new product alerts. This exclusivity worked well for them, as new footwear now sells out in a matter of hours after releasing an early access text message blast.