SMS Marketing Case Study : Sportsman & Ski Haus
SMS Marketing Case Study : Sportsman & Ski Haus

In this case study we examine Sportsman & Ski Haus, a sports store that made the switch to SlickText.
Making the switch to new SMS marketing software is a crucial decision, and imperative for external growth. The majority of businesses and organizations who currently use SMS marketing have been with their provider for years. This may also mean the price they pay for service is much higher, the technology is outdated, and strategies for continued growth are nonexistent.
Besides cost of service, SSH switched because we promised them new growth, better subscriber response rates, and the ability to send automated text messages. You can be a seasoned veteran at text marketing, but that doesn't mean you'll always experience the best results. That's why we suggest our service, as we provide you with free one on one training.
Sportsman & Ski Haus is a multi-store sporting goods organization with locations in multiple states. SlickText was approached by their marketing personnel, who expressed interest in making the switch. At the time, they were lacking the growth and response rate they were looking for with their current provider.
When SSH started with SlickText, they were coming off a year of slow growth, which left them with only a couple hundred contacts. Once teamed up with SlickText, Sportsman & Ski Haus observed drastic growth in the first 10 days of their campaign.
With SlickText, they immediately experienced a 33% increase in new subscribers.
Not only did this help them in their future SMS marketing campaigns, but it also increased foot traffic for large events.
What did they do differently?
Not only was SlickText able to beat their current pricing for service, but they also redesigned their entire growth strategy. They encouraged SSH to implement a solid incentive to join the list, which led to more customers opting in.
Large banners were placed at checkout points, and stuffer flyers inserted in every outgoing bag of merchandise. Coupled with that, management also verbally engaged every customer at point of sale. Employees offered an incentive to these customers, and then guided them through the instructions on the opt-in flyer. The sole method for opting new people in was text to join. This is where people text a keyword to a 5 or 6 digit number called a short code in order to subscriber. Once the customer opted-in, they received an instant response with an immediate special offer.
SlickText also retrained the marketing personnel on compliance laws and special features. All of the training was personalized and specific to Sportsman & Ski Haus. This new game plan allowed them to see an immediate increase in sales and larger gains during events.
In the months to come after their initial redesign, HHS launched a, "Back-to-School Text-to-Win Campaign" which encouraged subscribers to become more interactive. Below is the flyer that was used for in store advertising and on various social media outlets.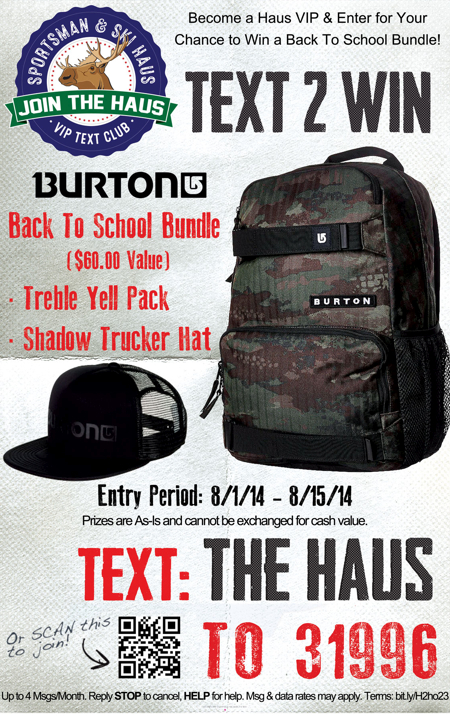 If you're not getting the growth or attention you think you deserve from your current mass text messaging service, then think about switching to SlickText. Switching is easy and can be handled entirely by the SlickText team. You will save money, experience growth, and have a better response with your new campaigns. We can help you experience the same results as Sportsman & Ski Haus, or better.
Contact our team today at 1-800-688-6290 or info@SlickText.com.