3 Telltale Signs That Prove You Are Too Focused on the Competition
3 Telltale Signs That Prove You Are Too Focused on the Competition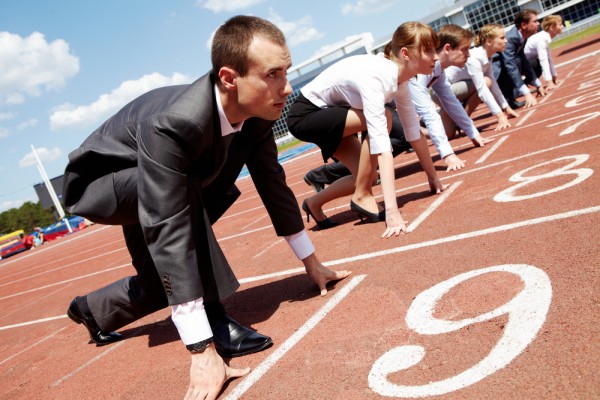 We work with thousands of business owners who use our text message marketing service to grow their customer base and increase sales. When you own a small to medium sized business, the competition can get pretty intense. If your business is a local brick and mortar, and you have no online presence, this makes the stakes much higher.
At Slicktext.com, we always believe a little healthy competition is great for business, but when it consumes your decision making, it's time to refocus. Here's 3 telltale signs that prove you're too focused on the competition.
1. You always wait for your competitor(s) to make the first move.
You're hesitant to change. You normally don't adopt any new business or marketing practices until you see your competitor has mastered them. You let your competition be the guinea pig for anything revolutionary while you wait and watch on the sidelines. You definitely don't believe in taking risks, so you let other people do it for you.
2. Your goals are set around their personal best.
When you have monthly goal setting meetings, you spend the majority of the time talking about your competition. If they launch a new product, you want to launch the same product but make it $1.00 cheaper. Instead of focusing on achieving your personal best, you're only focused on being a notch above the competition.
3. You make quick, rash decisions that aren't based on logic.
You see your competitor is running a 50% off sale this week, so you rush to throw together a 60% off sale – that'll teach 'em, right? Wrong. When you make foolish decisions based around the competition, you cut yourself short. In the process, you run the risk of devaluing your brand and losing money.
At Slicktext.com, we believe in setting yourself apart from the competition, not above. We believe in offering products and services that challenge the text marketing industry. We focus on revolutionizing, not looking to our left or right. To be successful, we strongly encourage you do the same. Compete internally, and you'll find the rest will take care of itself. Give us a call today at 1.800.688.6290 to give text message marketing a try, and set yourself apart from the competition.