Text Message Marketing Steps On Email Marketing's Toes
Text Message Marketing Steps On Email Marketing's Toes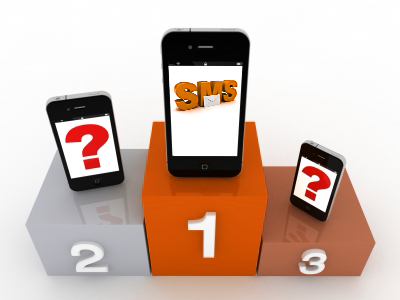 While text message marketing and email marketing share many similarities, the differences start when it is time to evaluate the effectiveness of the marketing scheme. While both  of the marketing  platforms focus on having a bountiful list of consumers to market to, the advantages of text marketing over email marketing are numerous. Since you are building a list based upon respondents who want to hear from you there is a great reduction in the money needlessly being spent. These people are much more likely to respond to you and the offer being presented to them via text marketing than those on a randomly generated list. In fact, oftentimes these lists generate names of people nowhere near your store or of those with absolutely 0 interest in what you offer! What a waste!
When you send a text message to an individual who is on your list you can almost guarantee that it will be opened. Not just that it will be opened; most text messages (around 85%) are read within two to three minutes of them being sent. Email marketing, sadly, cannot compete with this short time span. In fact, it is less than 20% of emails that are opened all together, much less within this short time.
Most people have their cell phone on them at all times of the day. They quickly respond to every sound their phone makes as quickly as they can. There are many problems with email: some people do not have email accounts, some people do not check their email on a regular basis. What good would it be to send an email advertising a special one-day only sale if the recipient won't receive it until after the sale is long gone?
Another benefit that text message marketing offers over email marketing is the ease of sign-up. There are an array of methods of advertising either type of marketing plan. This includes through sings on your door, through word of mouth and on your social media sites. However, it is only a text message sign-up that customers will find easy. When you have to sign up via email you need not only a computer, but the email address and to provide your name, fill out information and many other steps. A simple short code to your number and the customer is opted-in to receive offers from you. Customers want things that make their life easy; it is up to you to give this to them.
It takes far less time to build a list via text marketing since it is so much easier to do than email sign-up, so this is yet another benefit that you will note.
You can also use text marketing to reach customers on short notice. What better way to reach someone with an offer in a hurry than via their mobile device?
Have you also considered how many more people can respond to the offer when it is on their phone? When you send an offer via email the person receiving it must then print the offer. Not with a cell phone or text message offer. Simply presenting the phone message is all that it takes for the customer to receive the offer.
While it is safe to say that you should offer both types of marketing plans so that you can reach all customers via their preferred platform, it is text message marketing that will take your business to new heights. Your attention certainly should be focused on text message marketing. The exciting benefits above only break the barrier to the flood of enjoyment that your business will enjoy.