6 ways to Drive Traffic this Holiday Season with Text Message Marketing
6 ways to Drive Traffic this Holiday Season with Text Message Marketing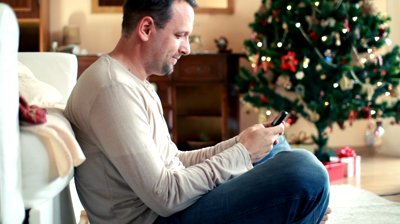 With the holidays fast approaching, businesses around the world are looking to put more profit in their bank accounts and add more customers to their fan base. There isn't a better time of the year to do this than during this joyful time of the year, nor is there a better way to do it than with SMS marketing.
Personalized and Quick Communication
SMS marketing, also commonly referred to as text message marketing, is a form of communication between a business and a customer via mobile phone. This personalized marketing method is preferred by most consumers, and businesses are gladly granting their wishes by offering more and more SMS offers. Since only those who want to receive messages from you will receive them, using mobile marketing reduces wasted time and effort on those who aren't really interested in what you have and focuses the attention on those who want what you offer.
6 SMS Marketing Holiday Tips
You can make SMS marketing work for you, too, taking advantage of the money being spent during the holidays with these six wonderful tips.
1.    Use SMS Marketing for One-Day Sales
Those one day sales are exciting to customers if you make irresistible offers. Send your SMS subscribers notification of these special sales days and you can be certain to attract a large crowd of shoppers. Although they come for the deals, the holiday season in full swing means that a great many of these customers will stay for even more! Black Friday is the biggest shopping day of the entire year, and certainly the perfect day to get people inside your doors when SMS marketing is used.
2.    Personalize all Offers
A personalized shopping experience is like heaven on earth, especially when things are hectic during the holidays. Whether you are sending notification of a one-day sale, a special coupon or something else, keeping those offers personalized will ensure that customers read and respond to what you are offering to them.
3.     Send Coupons
Consumers prefer SMS coupons, so be sure that you send them out. The preference is so great, customers are 10x more likely to redeem an SMS marketing coupon than emailed coupons! A lot less of a hassle and a lot more savings; who could ask for anything more? Use the holidays to send those special offers to all of your customers and they'll be loyal to you forever!
4.    Consider MMS, Too
MMS, or Multi-Media Messaging Service, allows you to send not only text to customers, but photos, graphics and videos, too. The results speak for themselves, and companies using MMS marketing in addition to SMS increase the odds of a customer responding to the offer by an amazing 35%! The numbers do not lie. MMS is included with many SMS marketing packages, so do look into this option.
5.    Know what to Say
No matter the offer being sent to your SMS subscriber, ensure that you are saying all of the right things. Your message should be easily recognizable as your brand, and it should be straight to the point, leaving the consumer with the irresistible urge to take advantage of the can't miss out on offer that you've sent to them. Always provide a call-to-action, and make the offer time sensitive.
6.    Use Keywords
Using a specific keyword to represent your brand or the offer taking place makes things easy for customers. A simple word or two to a shortcode and the offer is theirs. Doesn't get any easier. There are keywords to help businesses offering all sorts of merchandise, so don't feel that you're out of luck.