SMS Marketing Dos and Don'ts
SMS Marketing Dos and Don'ts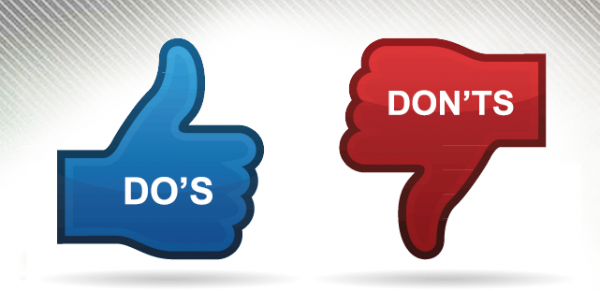 There is no wonder why you are interested in using SMS marketing, however before you utilize such a campaign into your business it is imperative that you are aware of the do's and the don'ts of SMS marketing.
Here we will look at some of the SMS marketing do's and don'ts that you should utilize into your marketing campaign. With these tips you can be certain that you are successful in all of your SMS marketing efforts.
SMS Marketing Dos and Don'ts: The Do List
Of course you are interested to learn what you should do when conducting an SMS marketing campaign, and with these tips you will learn exactly what it takes to create success with SMS marketing.
Do give the customer what they want, and that is an exciting deal. Whether it is a coupon, a freebie, a free sample or a promotion, providing the consumer with what they want will ensure they remain loyal to your brand and a member of your SMS marketing list.
Send your messages at the right times. One of the most important aspects of SMS marketing is to send the messages at the right time. For example, a night club will probably be long forgotten by the time the crowd is ready to head out if they send the message during the middle of the day while the individual is at work or handling other tasks. Learn when to send messages and you can benefit greatly.
 Keep it Personal: Building your brand successfully means you are giving the consumer what they want while also showing them you are a business that cares. This means personalized communication with them. The use of SMS marketing enables a more personalized experience with the consumer, but never forget to interact with them personally whenever it is possible.
Always include a call to action. If there is no call to action included in your message you are doing it wrong. A call to action is imperative to a successful SMS marketing campaign. A call to action implores urgency and importance, and there is no better way to accentuate your business than with this urgent message delivery.
Choose Your Wording Carefully: Yes, you are very limited with the number of words you can include in your message. But hey, Twitter's been doing it for a while now and it's really caught on. When your words are chosen carefully you can be certain that you will engage and attract all of those that you are trying to reach.
SMS Marketing Dos and Don'ts: The Don'ts
Just as there are plenty of things that you should do within your SMS marketing campaign thee are also a number of things that you should not be doing. Let's have a look see, shall we?
û  Don't assume that everyone knows who you are. Choose a keyword that consumers will easily recognize and relate to your brand, and make sure that you include this in every post.
û  Don't Spam: Can we repeat it? DO NOT SPAM! You are excited about your business and the use of SMS marketing, and we all know this. But do not assume that everyone else is as enthusiastic about it as you. It is fine to send a message each day, or each week, but do not send multiple messages within the span of 24 hours. Not everyone has unlimited or free messages, and many will find it annoying to hear from you every couple of hours.
û  Don't be too Salesy: Yes, you want to promote your company, increase your profits and all of that good stuff with the help o SMS marketing, and this is certainly possible to do. However, you should keep in mind that all of your SMS marketing messages do not have to be about sales, your company, etc. there are many ways in which you can use text message marketing, and you should take advantage of those methods.
û   Leave 'cute' for yoru personal pages. You should be professional in all of the texts that you send. Sure, you want them to be lively, engaging and reflecting your business, but you do not want to offend anyone. No joking, no humor. You never know what will offend the next person, so leave that for your personal pages.
Enjoy the Benefits of SMS Marketing when you know the Do's and the Don'ts
Text message marketing has been increasing in popularity every years since it was first introduced to us in 1999. Those 14 years have proven that SMS marketing is beneficial, and if you are a company ready to set your standards to new heights it is time to look at SMS marketing and its benefits to you.
With this list of helpful SMS marketing do's and don't you will know just how to reach the audience and how not to reach them. Take advantage of this information!