5 Tips For Growing Your Text Message Marketing List
5 Tips For Growing Your Text Message Marketing List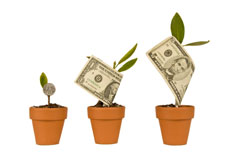 Anyone who's privy to text message marketing or any other type of permission based marketing knows that a giant key to your effectiveness and ultimate opportunity for success lies with the size of your audience. It's obvious that spreading your word to 5 people is much less effective than 50 or 500 people. You should always be trying to grow your list. So how can you grow it to be as effective as possible? Here are 5 tips for doing just that…
Create Flyers
This is a simple one that requires almost no effort. Create some flyers either with the built-in flyer generator that comes with your SlickText account or your favorite document creation tool. Let them know what the incentive is for joining and how they do so. For example… "Get a FREE appetizer! Text "burger" to 31996 to sign up for our Text specials and get your coupon!". Then post those flyers around your business where people will see them and be inspired to join. Put them in the bathrooms, waiting rooms, restaurant tables, front counters, and any other places you can think of. Use your best judgement!
Use Other Social Media Outlets
Chances are you or your business has a Facebook page, Google + page, or Twitter. Let people know that they can join via those outlets as well. Toss up a post or send a tweet every so often letting people know about your text marketing club and how they can join. This is surprisingly effective way to get people on your list!
Email
Do you send weekly email newsletters to your customers? Make sure you include information about your text message marketing there as well. Not nearly as many people read their emails as text but some still do! It's just another way to make your "text club" that much more visible.
Website Widgets
If you're utilizing text message marketing, you most likely understand digital marketing and also have a website. Slick Text offers a website signup widgets which are very simple snippets of code that you can paste into your website that creates a little spot where people can enter their mobile number and signup for your text marketing messages. To learn more about how that works, check out our web widgets help page.
Face to Face
Surprisingly, many businesses neglect to ask people face-to-face to join their text marketing lists. This is probably the most effective way to grow your list. For example, if you have a retail store, when people are checking out, let them know that they can save 10% today if they join your text message marketing list. Tell them all they need to do is text your keyword to 31996. Also let them know that you'll only be sending them a few texts per month. That will make them feel more comfortable in knowing they wont get spammed either. We've done tests with several of our customers and have found that most people when proposed with an enticing offer, will join your list if you just ask them.
There are several other ways that you can grow your text marketing list too. These are just a handful. Be creative and remember that it's text! It's fun. You know your customers best so do what you think works best!