Get great ideas for advertising your text campaigns.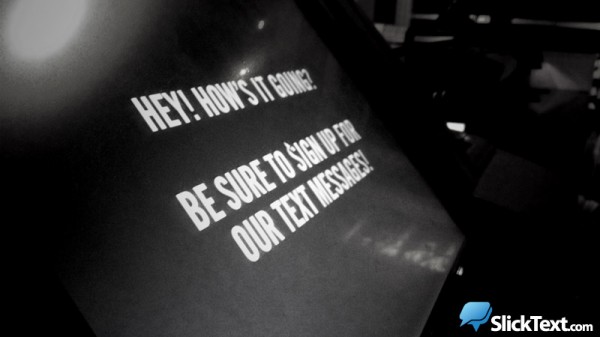 This is one of the MOST IMPORTANT parts of your text marketing campaigns. Essentially you want to put your, "text to" call to action everywhere your customer's eyes are. Start with the easiest ones. Treat all your media and advertising outlets as a funnel that directs your customers to sign up for your text list. Do your customers spend time on the toilet? Well, place a call to action where their eyes land.
Here is a list of all the big ones you could hit. Remember, getting customers on your list is the most important thing and will give you the results you want!
Receipts – Staple a smaller version of your, "sign up" flyer to each receipt and in every bag of merchandise that goes out the door.
Facebook
Twitter
Website
Email
Direct Mail
Menus
Table Tent
Blog
FREE Flyers via SlickText.com account (Put Flyers everywhere)
Shirts
Windows
Newspaper
Radio
Sales people – Make sure your sales team is offering to your customers the chance to sign up for your text list.
Cashiers – Just the same as your sales people…  Ex. 1 – "Would you like to join our text list today? You will receive a mobile coupon worth 15% OFF your purchase today only."

Remember you are not limited to these ideas. They are just suggestions in the end. It's up to you on how creative you can get to draw your customers into your text campaigns. As we always say, "treat your other forms of marketing as funnels for your text campaigns". Get creative and remember, It's text. Have fun!