Building your mailing lists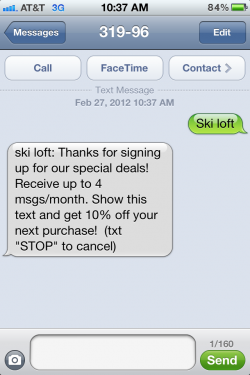 Building text marketing lists are one of the main goals of anyone who really pays attention to their marketing efforts. It's obvious that the more they grow, the more you're voice is heard. Text marketing and advertising is a "permission" based form of marketing which means that instead of interrupting your customers, they volunteer to listen to what you have to say. With that said, there are a few things to keep in mind when trying to get customers to sign up…
Offer them something! Whether it's a discount or something free, it's a quick and easy way to get customers on board. It also shows them that they mean something to you. Think about how much that "free something" or discount will cost you in comparison to being able to now repeatedly communicate to someone who already cares about your business. It's a great trade for both parties.
Let them know how often you'll be touching them. This is a big one! People don't like spam. Furthermore, it can ruin your reputation if you flood their phones with text marketing messages everyday. Just like the example here, say something along the lines of "Receive up to 4 msgs/month" or up to "2 msgs/week". It will help build reassurance that you wont be taking advantage of them. Make sure you stick to the frequency you quote them!
You can also opt people into your list by entering their numbers in manually. Some may prefer this more if they don't have their phone on them or if their in a hurry. You can collect numbers via forms on your website, sign up sheets at your front counter  or from merchant copies from service tickets. It is extremely important, however, that you have their consent before adding them to your list!  Some people may be upset and offended if you begin marketing to them without their permission. Also make sure you still let them know of the number of times you'll be touching them with your marketing!
For more info on text message marketing, check out our main site at www.SlickText.com.
-Matt